Looking for a way to set up a website quickly and easy without ripping your shirt off? Look no further. Setting up a website can be quite a hustle if you are not a techie. In this article, how to set up a website for free – for the non techie, I will show you a way to set up a website for free quick and easy with the Siterubix website builder powered by Wealthy Affiliate.
Before you read the rest of my post I want to inform you according to the best online practices with information that may be important to you:
Affiliate disclaimer: This post contain affiliate links which means I will get a commission at no extra cost to you if you should click through and make a purchase.
Third party disclaimer: We are not legally responsible for what happens when you click on third party links because we have no control over third parties websites, content, functionality or security and can not be held responsible for any technical or other damage to your device such as computer, mobile or tablet used when clicking on a link to connect to other platforms, download material, install, modify or distribute any material, software or other.
Earnings and result disclaimer: Programs or products mentioned in this post that involve earning money will not work for everyone and there is no guarantee for success because there are too many factors that influence the results such as skills, circumstances and knowledge that we have no control over. Our Intention is to provide you with good potential opportunities and tools that can be helpful to your success.
Opinion disclaimer:
All views and opinions expressed in posts on are my own and not my affiliate partners views or opinions. Projections in this post are not endorsements.
The Siterubix Website builder
The Siterubix website builder is a website builder you do not need any technical skills to use. All the technical aspects of building a website have been removed to make it as user-friendly as possible. It is so easy to set up a website and the fastest websitebuilder around. It is powered by Wealthy Affiliate and will therefore provide you with valuable training and tools to build your website which makes this website builder quite unique and one of a kind.
The process of setting up a Free website – A quick Guide for the non techie
The first thing you need to do is to create a free account on the Wealthy Affiliate Siterubix hosting platform. You set up your account. Once your account is set up, you can start the building.
Step 2 – Start the set up your website training
Once you have created an account you will get access to the dashboard. Under the training in the main menu you will find the 10 free lessons to help you set up your website. The online entrepreneur lessons.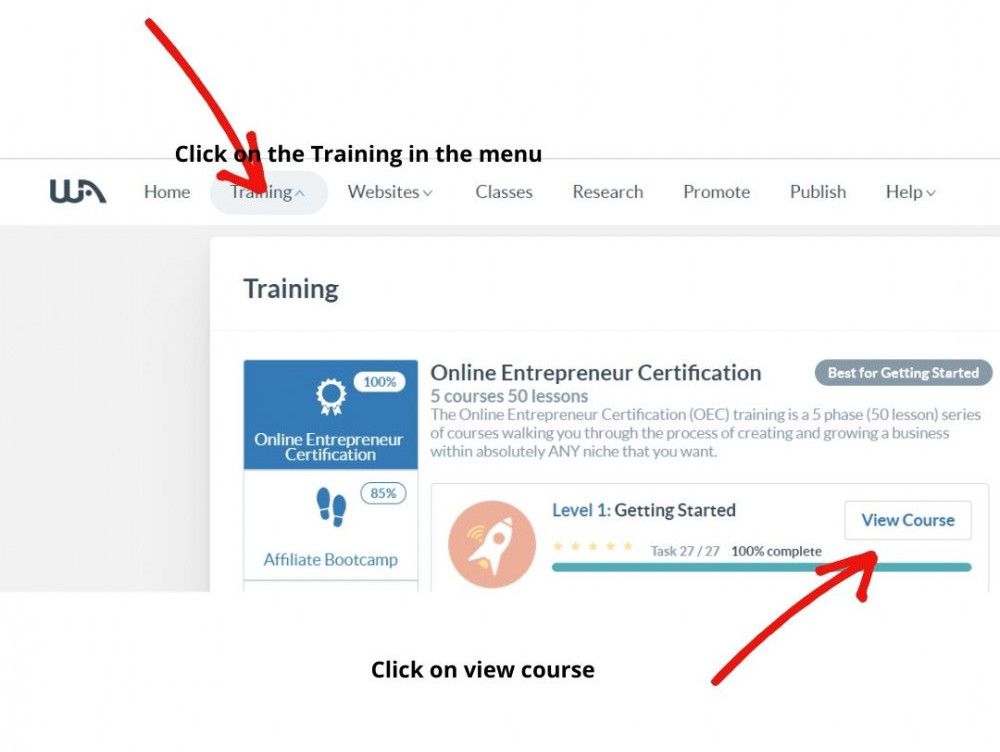 Click on View course to get to the training
Lesson 1. Getting rolling
In this lesson you get acquainted with Wealthy Affiliate platform and offers. Kyle, one of the founders will give you a walk through and give you a few tasks to do like setting up your first goals.
Lesson 2. Understanding how to make money online
Now you are going to learn all the basic about the process of making money online. And you will get a few easy tasks to do as well.
Lesson 3. Choose a niche
Here you will learn about how to choose a niche for your website and you need to decide what your website is going to be all about and who your target customers are.
Lesson 4. Building your own Niche website
Now the building starts. Watch the tutorial video step by step and build your website in seconds.
Lesson 5. Setting up your website
In this lesson you learn how to log in to your wordpress admin area and prepare your website to be published and set up your SEO settings. It is a step by step tutorial and very easy to do. You do not need any technical skills to do this. You just follow the training and do your tasks.
Lesson 6 Getting your site ready for search engines
Learn how to set up your website for search engines so you can be found online in search on Google and other search engines.
Lesson 7. Creating initial Content
Creating the first content on your website is the focus in this lesson. You will be making The first pages on your website.
Lesson 8. Creating custom menus on your website
Now you are going to learn how to create your own custom menu for your website.
Lesson 9. Understanding Keywords
In this lesson you are introduced to SEO – search engine optimization and Jaaxy the worlds most advanced Keyword tool and you will learn how to make use of this Keyword search tool to get traffic to your website.
Lesson 10. Next step
Finally, you get some last tasks. Now you have built a website with the Siterubix websitebuilder and set up your site.
Now you need to decide what your next step should be. Do you want to transfer it to your own domain and start an online business? In that case you will be offered an awesome action bonus. 59% OFF the first month, Note that this offer is only valid for the first 7 days of the Free trial.
If you want to wait to transfer your Free sites to your own domain – You can continue writing on your Siterubix page for 6 months, but you will not have access to the community more than the first 7 days.
The benefits with a free site on Siterubix
It is free to start and learn how to set up a site.
You do not have to have technological knowledge.
You get a step by step tutorial and help on how to set up your website.
First 7 days you have access to 24/7help from an awesome community of marketers.
You can earn money with your website on the free trial as a WA affiliate or your referral links to other partners.
The website is hosted on the most secure servers in the world.
The prices at Wealthy Affiliate have been more or less the same the last 15 years so you will not get a surprising add on to the pricing.
Hosting at Wealthy Affiliate is low cost. The alternative hosting companies will cost you much more in total costs over time.
I recommend you to host your site at Wealthy Affiliate – the most secure servers in the world. In total, you get much more value for the money. There are no up sells regarding the hosting and no hidden costs.
The cons
The website on the Siterubix server is not owned by you, because you are using a sub domain on WA servers. But your content is yours. Remember – You are on a Free trial. A free trial is meant to give you a taste of what this platform can offer you. On the other hand most hosting companies do not have free trials or training. You at least know what you get here.
You need to transfer your site to a domain that you own to get full ownership. You can transfer it to WA domains you can buy for $12-15 or to other hosting companies of your own choice. It is up to you.
As a free member, you have no access to website support during the free trial. However, the first 7 days you will get help 24/7 from the founders, your referrer and the community.
If you decide to become a Wealthy Affiliate Premium member within the first 7 days you will get an awesome action bonus.
First month you will only pay $19 for more advanced training and possibilities to make a successful business with your website. This is a super awesome deal – Normally you need to pay $49 a month or $495 a year.
The benefits of premium is the world-class training and that you can build 10 websites and multiple income streams, Get double commissions from the Affiliate program and your own WA blog just to mention a few.
You can also generate income on making your own training in the training portal just to mention some ways to make money within Wealthy Affiliate.
Extra Special bonus
If you sign up to premium via the free trial or directly as a full time premium member through my website you will get my special bonus with my content strategy training as an extra gift to you for taking action.
My starter story
I started as a free member and I saw the immense value of this training could offer me so I grabbed the Action bonus. For me it was a no brainer and $19 is not a lot to loose if you for any reason change your mind. Very few does once started.
Then I was on a monthly plan for some months until I was 100% sure about my decision. I then went all in as a Yearly member. After 10 months I upgraded to Premium plus to get the expert classes and Jaaxy enterprise. You can read more about Wealthy Affiliate Premium plus here.
I did a lot of research about different platforms and hosting companies. What I found is that the long term costs will by far less with Wealthy Affiliate than anyone else and the value you get can not even be compared.
General costs for a website on a yearly plan lies between $500-800+ a year depending on where you are hosting.
I dare say that Wealthy Affiliate is the best platform for online marketers today. The core values and the vision of the company is also a major factor to why I think so, not to mention the extremely awesome, unique and one of a kind community you will be a part of.
Under a year later I had multiple websites and income streams and so can you. This training works. I have documented my whole process on my Wealthy Affiliate blog
This training will teach you all about creating a successful money making website, but it is all up to you to make it happen by starting to build your website and put in the effort needed to build the business of your dreams. You have nothing to loose only all to win.
Just A few things before you wander off!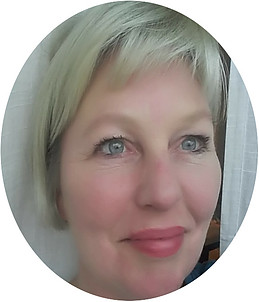 Thank you for reading my article. I hope you found it helpful.
1. Would you be so kind and share this post with someone who might need to hear this?
2. Subscribe to my newsletter in the sidebar if you want to receive updates and regularly tips from me about different affiliate marketing topics that can be of value to you.
3. If you have any questions about creating a free website with Siterubix please leave them in the comments below, and I will get back to you.
4. Follow me on WEBTALK – my new favorite Social Media Platform where you can connect, read, post, like, share, comment and earn while being social.
Feel free to share, like and connect!